Toll Free USA & Canada
International
México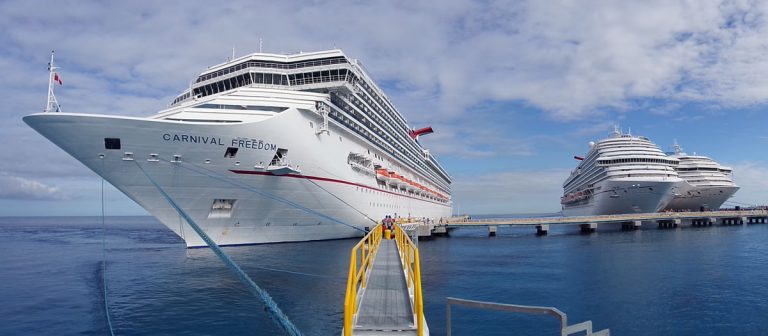 Cozumel Cruise Schedule
Cozumel Cruise Schedule. Cozumel is considered one of the most popular ports of call in the Caribbean and one of the most populated as cruise ships from all over the world arrive daily to the 3 different piers in the island, welcoming more than one million passengers each year. So here we offer you an overview of the Cozumel Cruise Schedule.
The famous diver Jacques Cousteau declared the island of Cozumel one of the most beautiful places on Earth and a scuba diver's paradise.
This, and its paradisiacal weather, is the reason why divers and tourists flock to the destination to enjoy a dive and explore the treasures of this Mexican Caribbean island.
Check out the Cozumel Cruise Schedule.
Mar 2019

Ship

ETA
ETD
Pier

Cruise Line

2-Mar

Celebrity Reflection
7:00 AM
4:00 PM
TMM Int'l
Celebrity
2-Mar
Carnival Glory
8:00 AM
5:00 PM
Punta Langosta

Carnival

2-Mar

Carnival Magic
8:00 AM
4:00 PM
Puerta Maya
Carnival
2-Mar
Norwegian Jewel
8:00 AM
5:00 PM
Punta Langosta
NCL

2-Mar

Carnival Sunshine
10:00 AM
6:00 PM
Puerta Maya
Carnival
3-Mar
Disney Wonder
7:30 AM
5:45 PM
Punta Langosta

Disney

3-Mar

Emerald Princess
8:00 AM
5:00 PM
Puerta Maya
Princess
3-Mar
Brilliance of the Seas
8:00 AM
6:00 PM
TMM Int'l

Royal Caribbean

3-Mar

Liberty of the Seas
8:00 AM
6:30 PM
TMM Int'l
Royal Caribbean
3-Mar
Navigator of the Seas
8:00 AM
4:00 PM
TMM Int'l

Royal Caribbean

3-Mar

Norwegian Dawn
8:00 AM
5:00 PM
Punta Langosta
NCL
3-Mar
Carnival Pride
9:00 AM
5:00 PM
Puerta Maya
Carnival

4-Mar

Carnival Liberty
8:00 AM
4:00 PM
Puerta Maya
Carnival
4-Mar
Celebrity Constellation
8:00 AM
5:00 PM
TMM Int'l
Celebrity

4-Mar

Celebrity Equinox
8:00 AM
4:00 PM
TMM Int'l
Celebrity
4-Mar
Carnival Elation
9:00 AM
4:00 PM
Punta Langosta
Carnival

4-Mar

Carnival Conquest
10:00 AM
6:00 PM
Puerta Maya
Carnival
4-Mar
MSC Divina
10:00 AM
6:00 PM
Punta Langosta

MSC

4-Mar

Carnival Ecstasy
1:30 PM
10:00 PM
Punta Langosta
Carnival
5-Mar
Caribbean Princess
7:00 AM
5:00 PM
Puerta Maya
Princess
5-Mar
Oasis of the Seas
8:00 AM
7:00 PM
TMM Int'l
Royal Caribbean

5-Mar

Serenade of the Seas
9:00 AM
5:00 PM
TMM Int'l

Royal Caribbean

5-Mar
Carnival Freedom
10:00 AM
6:00 PM
Puerta Maya

Carnival

6-Mar
Norwegian Sun
8:00 AM
5:00 PM
Punta Langosta
NCL
6-Mar
Carnival Dream
9:00 AM
5:00 PM
Puerta Maya
Carnival
6-Mar
Freedom of the Seas
10:00 AM
7:00 PM
TMM Int'l
Royal Caribbean
6-Mar
Norwegian Epic
10:00 AM
6:00 PM
Punta Langosta
NCL
7-Mar
Liberty of the Seas
7:30 AM
6:00 PM
TMM Int'l
Royal Caribbean
7-Mar
Brilliance of the Seas
8:00 AM
6:00 PM
TMM Int'l
Royal Caribbean
7-Mar
Carnival Magic
9:00 AM
4:00 PM
Puerta Maya
Carnival
8-Mar
Oceania Riviera
8:00 AM
6:00 PM
Punta Langosta
Oceania
9-Mar
Explorer of the Seas
7:00 AM
5:00 PM
TMM Int'l
Royal Caribbean
9-Mar
Norwegian Jewel
8:00 AM
5:00 PM
Punta Langosta
NCL
9-Mar
Carnival Elation
9:00 AM
4:00 PM
Puerta Maya
Carnival
10-Mar
Celebrity Silhouette
7:00 AM
4:00 PM
TMM Int'l
Celebrity
10-Mar
Emerald Princess
8:00 AM
5:00 PM
Puerta Maya
Princess
10-Mar
Carnival Splendor
8:00 AM
5:00 PM
Puerta Maya
Carnival
10-Mar
Celebrity Constellation
8:00 AM
5:00 PM
TMM Int'l
Celebrity
10-Mar
Disney Magic
8:15 AM
3:45 PM
Punta Langosta
Disney
11-Mar
AIDAbella
6:00 AM
7:00 PM
Puerta Maya
AIDA Cruises
11-Mar
Carnival Ecstasy
1:30 PM
10:00 PM
Puerta Maya
Carnival
12-Mar
Vision of the Seas
7:00 AM
4:00 PM
TMM Int'l
Royal Caribbean
12-Mar
Carnival Magic
8:00 AM
4:00 PM
Puerta Maya
Carnival
12-Mar
Silver Shadow
8:00 AM
10:00 PM
Punta Langosta
Silversea
12-Mar
Brilliance of the Seas
10:00 AM
7:00 PM
TMM Int'l
Royal Caribbean
12-Mar
Carnival Breeze
10:00 AM
6:00 PM
Puerta Maya
Carnival
12-Mar
Carnival Freedom
10:00 AM
6:00 PM
Punta Langosta
Carnival
13-Mar
Navigator of the Seas
7:00 AM
5:00 PM
TMM Int'l
Royal Caribbean
13-Mar
Allure of the Seas
8:00 AM
7:00 PM
TMM Int'l
Royal Caribbean
13-Mar
Norwegian Sun
8:00 AM
5:00 PM
Punta Langosta
NCL
13-Mar
Carnival Dream
9:00 AM
5:00 PM
Puerta Maya
Carnival
13-Mar
Norwegian Epic
10:00 AM
6:00 PM
Punta Langosta
NCL
14-Mar
Seven Seas Navigator
8:00 AM
4:00 PM
Punta Langosta
Regent
14-Mar
Carnival Elation
9:00 AM
4:00 PM
Punta Langosta
Carnival
14-Mar
Carnival Paradise
9:00 AM
5:00 PM
Puerta Maya
Carnival
14-Mar
Carnival Victory
1:00 PM
10:00 PM
Puerta Maya
Carnival
15-Mar
Costa Luminosa
8:00 AM
7:00 PM
Puerta Maya
Costa
16-Mar
Celebrity Reflection
7:00 AM
4:00 PM
TMM Int'l
Celebrity
16-Mar
Vision of the Seas
7:00 AM
4:00 PM
TMM Int'l
Royal Caribbean
16-Mar
Carnival Glory
8:00 AM
5:00 PM
Puerta Maya
Carnival
16-Mar
Carnival Triumph
8:00 AM
4:00 PM
Puerta Maya
Carnival
16-Mar
Norwegian Jewel
8:00 AM
5:00 PM
Punta Langosta
NCL
17-Mar
Disney Wonder
7:30 AM
5:45 PM
Punta Langosta
Disney
17-Mar
Brilliance of the Seas
8:00 AM
6:00 PM
TMM Int'l
Royal Caribbean
17-Mar
Carnival Dream
8:00 AM
6:00 PM
Puerta Maya
Carnival
17-Mar
Liberty of the Seas
8:00 AM
6:30 PM
TMM Int'l
Royal Caribbean
17-Mar
Norwegian Dawn
8:00 AM
5:00 PM
Punta Langosta
NCL
17-Mar
Oceania Riviera
8:00 AM
5:00 PM
Punta Langosta
Oceania
18-Mar
Caribbean Princess
7:00 AM
5:00 PM
Punta Langosta
Princess
18-Mar
Carnival Paradise
7:00 AM
3:00 PM
Puerta Maya
Carnival
18-Mar
Celebrity Constellation
8:00 AM
5:00 PM
TMM Int'l
Celebrity
18-Mar
Navigator of the Seas
8:00 AM
4:00 PM
TMM Int'l
Royal Caribbean
18-Mar
Carnival Elation
9:00 AM
4:00 PM
Punta Langosta
Carnival
18-Mar
Carnival Conquest
10:00 AM
6:00 PM
Puerta Maya
Carnival
18-Mar
MSC Divina
10:00 AM
6:00 PM
Punta Langosta
MSC
19-Mar
Oasis of the Seas
8:00 AM
7:00 PM
TMM Int'l
Royal Caribbean
19-Mar
Serenade of the Seas
9:00 AM
5:00 PM
TMM Int'l
Royal Caribbean
19-Mar
Carnival Freedom
10:00 AM
6:00 PM
Puerta Maya
Carnival
19-Mar
Nieuw Amsterdam
10:00 AM
11:00 PM
Puerta Maya
HAL
20-Mar
Emerald Princess
7:00 AM
4:00 PM
Puerta Maya
Princess
20-Mar
Norwegian Sun
8:00 AM
5:00 PM
Punta Langosta
NCL
20-Mar
Freedom of the Seas
10:00 AM
7:00 PM
TMM Int'l
Royal Caribbean
20-Mar
Norwegian Epic
10:00 AM
6:00 PM
Punta Langosta
NCL
21-Mar
Liberty of the Seas
7:30 AM
6:00 PM
TMM Int'l
Royal Caribbean
21-Mar
Brilliance of the Seas
8:00 AM
6:00 PM
TMM Int'l
Royal Caribbean
21-Mar
Carnival Triumph
9:00 AM
4:00 PM
Puerta Maya
Carnival
23-Mar
Carnival Paradise
7:00 AM
3:00 PM
Puerta Maya
Carnival
23-Mar
Norwegian Jewel
8:00 AM
5:00 PM
Punta Langosta
NCL
23-Mar
Carnival Elation
9:00 AM
4:00 PM
Puerta Maya
Carnival
24-Mar
Celebrity Silhouette
7:00 AM
4:00 PM
TMM Int'l
Celebrity
24-Mar
Emerald Princess
8:00 AM
5:00 PM
Puerta Maya
Princess
24-Mar
Carnival Splendor
8:00 AM
5:00 PM
Puerta Maya
Carnival
24-Mar
Celebrity Constellation
8:00 AM
5:00 PM
TMM Int'l
Celebrity
24-Mar
Norwegian Dawn
8:00 AM
5:00 PM
Punta Langosta
NCL
24-Mar
Disney Magic
8:15 AM
3:45 PM
Punta Langosta
Disney
25-Mar
AIDAbella
6:00 AM
7:00 PM
Puerta Maya
AIDA Cruises
25-Mar
Grandeur of the Seas
7:00 AM
4:00 PM
TMM Int'l
Royal Caribbean
25-Mar
Vision of the Seas
7:00 AM
4:00 PM
TMM Int'l
Royal Caribbean
25-Mar
Celebrity Equinox
8:00 AM
4:00 PM
TMM Int'l
Celebrity
25-Mar
Costa Luminosa
8:00 AM
7:00 PM
Puerta Maya
Costa
25-Mar
Carnival Ecstasy
1:30 PM
10:00 PM
Puerta Maya
Carnival
26-Mar
Carnival Freedom
8:00 AM
4:00 PM
Puerta Maya
Carnival
26-Mar
Carnival Triumph
8:00 AM
4:00 PM
Punta Langosta
Carnival
26-Mar
Brilliance of the Seas
10:00 AM
7:00 PM
TMM Int'l
Royal Caribbean
26-Mar
Carnival Breeze
10:00 AM
6:00 PM
Puerta Maya
Carnival
27-Mar
Navigator of the Seas
7:00 AM
5:00 PM
TMM Int'l
Royal Caribbean
27-Mar
Allure of the Seas
8:00 AM
7:00 PM
TMM Int'l
Royal Caribbean
27-Mar
Norwegian Sun
8:00 AM
5:00 PM
Punta Langosta
NCL
27-Mar
Carnival Magic
10:00 AM
6:00 PM
Puerta Maya
Carnival
27-Mar
Norwegian Epic
10:00 AM
6:00 PM
Punta Langosta
NCL
28-Mar
Carnival Paradise
7:00 AM
3:00 PM
Punta Langosta
Carnival
28-Mar
Carnival Elation
9:00 AM
4:00 PM
Puerta Maya
Carnival
28-Mar
Carnival Glory
1:00 PM
10:00 PM
Puerta Maya
Carnival
30-Mar
Celebrity Reflection
7:00 AM
4:00 PM
TMM Int'l
Celebrity
30-Mar
Carnival Triumph
8:00 AM
4:00 PM
Puerta Maya
Carnival
30-Mar
Norwegian Jewel
8:00 AM
5:00 PM
Punta Langosta
NCL
30-Mar
Carnival Sunshine
10:00 AM
6:00 PM
Puerta Maya
Carnival
31-Mar
Disney Wonder
7:30 AM
5:45 PM
Punta Langosta
Disney
31-Mar
Brilliance of the Seas
8:00 AM
6:00 PM
TMM Int'l
Royal Caribbean
31-Mar
Emerald Princess
8:00 AM
5:00 PM
Puerta Maya
Princess
31-Mar
Liberty of the Seas
8:00 AM
6:30 PM
TMM Int'l
Royal Caribbean
31-Mar
Navigator of the Seas
8:00 AM
4:00 PM
TMM Int'l
Royal Caribbean
31-Mar
Norwegian Dawn
8:00 AM
5:00 PM
Punta Langosta
NCL
31-Mar
Carnival Magic
9:00 AM
5:00 PM
Puerta Maya
Carnival
Apr 2015
Ship
ETA
ETD
Pier
Cruise Line
1-Apr
Celebrity Constellation
8:00 AM
5:00 PM
TMM Int'l
Celebrity
1-Apr
Carnival Elation
9:00 AM
4:00 PM
Puerta Maya
Carnival
1-Apr
MSC Divina
10:00 AM
6:00 PM
Punta Langosta
MSC
1-Apr
Seven Seas Navigator
10:00 AM
11:00 PM
Punta Langosta
Regent
1-Apr
Carnival Ecstasy
1:30 PM
10:00 PM
Puerta Maya
Carnival
2-Apr
Vision of the Seas
7:00 AM
4:00 PM
TMM Int'l
Royal Caribbean
2-Apr
Oasis of the Seas
8:00 AM
7:00 PM
TMM Int'l
Royal Caribbean
2-Apr
Serenade of the Seas
9:00 AM
5:00 PM
TMM Int'l
Royal Caribbean
2-Apr
Carnival Conquest
10:00 AM
6:00 PM
Puerta Maya
Carnival
2-Apr
Carnival Paradise
11:00 AM
8:00 PM
Punta Langosta
Carnival
3-Apr
Norwegian Sun
8:00 AM
5:00 PM
Punta Langosta
NCL
3-Apr
Carnival Dream
10:00 AM
6:00 PM
Puerta Maya
Carnival
3-Apr
Freedom of the Seas
10:00 AM
7:00 PM
TMM Int'l
Royal Caribbean
3-Apr
Norwegian Epic
10:00 AM
6:00 PM
Punta Langosta
NCL
4-Apr
Liberty of the Seas
7:30 AM
6:00 PM
TMM Int'l
Royal Caribbean
4-Apr
Brilliance of the Seas
8:00 AM
6:00 PM
TMM Int'l
Royal Caribbean
4-Apr
Carnival Triumph
9:00 AM
4:00 PM
Puerta Maya
Carnival
6-Apr
Norwegian Jewel
8:00 AM
5:00 PM
Punta Langosta
NCL
6-Apr
Carnival Elation
9:00 AM
4:00 PM
Puerta Maya
Carnival
7-Apr
Celebrity Silhouette
7:00 AM
4:00 PM
TMM Int'l
Celebrity
7-Apr
Carnival Splendor
8:00 AM
5:00 PM
Puerta Maya
Carnival
7-Apr
Celebrity Constellation
8:00 AM
5:00 PM
TMM Int'l
Celebrity
7-Apr
Norwegian Dawn
8:00 AM
5:00 PM
Punta Langosta
NCL
7-Apr
Disney Magic
8:15 AM
3:45 PM
Punta Langosta
Disney
7-Apr
Carnival Paradise
11:00 AM
8:00 PM
Puerta Maya
Carnival
8-Apr
Caribbean Princess
7:00 AM
5:00 PM
Puerta Maya
Princess
8-Apr
Carnival Ecstasy
1:30 PM
10:00 PM
Puerta Maya
Carnival
9-Apr
Vision of the Seas
7:00 AM
4:00 PM
TMM Int'l
Royal Caribbean
9-Apr
Carnival Freedom
8:00 AM
4:00 PM
Puerta Maya
Carnival
9-Apr
Carnival Triumph
8:00 AM
4:00 PM
Punta Langosta
Carnival
9-Apr
Brilliance of the Seas
10:00 AM
7:00 PM
TMM Int'l
Royal Caribbean
9-Apr
Carnival Breeze
10:00 AM
6:00 PM
Puerta Maya
Carnival
10-Apr
Emerald Princess
7:00 AM
4:00 PM
Puerta Maya
Princess
10-Apr
Navigator of the Seas
7:00 AM
5:00 PM
TMM Int'l
Royal Caribbean
10-Apr
Allure of the Seas
8:00 AM
7:00 PM
TMM Int'l
Royal Caribbean
10-Apr
Norwegian Sun
8:00 AM
5:00 PM
Punta Langosta
NCL
10-Apr
Carnival Magic
10:00 AM
6:00 PM
Puerta Maya
Carnival
10-Apr
Norwegian Epic
10:00 AM
6:00 PM
Punta Langosta
NCL
11-Apr
Carnival Elation
9:00 AM
4:00 PM
Punta Langosta
Carnival
11-Apr
Carnival Paradise
9:00 AM
5:00 PM
Puerta Maya
Carnival
11-Apr
Carnival Victory
1:00 PM
10:00 PM
Puerta Maya
Carnival
13-Apr
Carnival Glory
8:00 AM
5:00 PM
Puerta Maya
Carnival
13-Apr
Carnival Triumph
8:00 AM
4:00 PM
Punta Langosta
Carnival
13-Apr
Carnival Sunshine
10:00 AM
6:00 PM
Puerta Maya
Carnival
14-Apr
Disney Wonder
7:30 AM
5:45 PM
Punta Langosta
Disney
14-Apr
Brilliance of the Seas
8:00 AM
6:00 PM
TMM Int'l
Royal Caribbean
14-Apr
Carnival Dream
8:00 AM
6:00 PM
Puerta Maya
Carnival
14-Apr
Liberty of the Seas
8:00 AM
6:30 PM
TMM Int'l
Royal Caribbean
14-Apr
Norwegian Dawn
8:00 AM
5:00 PM
Punta Langosta
NCL
15-Apr
Celebrity Equinox
8:00 AM
4:00 PM
TMM Int'l
Celebrity
15-Apr
Carnival Ecstasy
1:30 PM
10:00 PM
Puerta Maya
Carnival
16-Apr
Oasis of the Seas
8:00 AM
7:00 PM
TMM Int'l
Royal Caribbean
16-Apr
Carnival Elation
9:00 AM
4:00 PM
Punta Langosta
Carnival
16-Apr
Carnival Conquest
10:00 AM
6:00 PM
Puerta Maya
Carnival
16-Apr
Carnival Freedom
10:00 AM
6:00 PM
Puerta Maya
Carnival
16-Apr
Carnival Paradise
11:00 AM
8:00 PM
Punta Langosta
Carnival
17-Apr
Emerald Princess
7:00 AM
4:00 PM
Puerta Maya
Princess
17-Apr
Norwegian Sun
8:00 AM
5:00 PM
Punta Langosta
NCL
17-Apr
Navigator of the Seas
9:00 AM
6:00 PM
TMM Int'l
Royal Caribbean
17-Apr
Freedom of the Seas
10:00 AM
7:00 PM
TMM Int'l
Royal Caribbean
17-Apr
Norwegian Epic
10:00 AM
6:00 PM
Punta Langosta
NCL
18-Apr
Liberty of the Seas
7:30 AM
6:00 PM
TMM Int'l
Royal Caribbean
18-Apr
Brilliance of the Seas
8:00 AM
6:00 PM
TMM Int'l
Royal Caribbean
18-Apr
Carnival Triumph
9:00 AM
4:00 PM
Puerta Maya
Carnival
20-Apr
Carnival Elation
9:00 AM
4:00 PM
Puerta Maya
Carnival
21-Apr
Celebrity Silhouette
7:00 AM
4:00 PM
TMM Int'l
Celebrity
21-Apr
Carnival Splendor
8:00 AM
5:00 PM
Puerta Maya
Carnival
21-Apr
Disney Magic
8:15 AM
3:45 PM
Punta Langosta
Disney
21-Apr
Carnival Paradise
11:00 AM
8:00 PM
Puerta Maya
Carnival
22-Apr
Caribbean Princess
7:00 AM
5:00 PM
Puerta Maya
Princess
22-Apr
Grandeur of the Seas
7:00 AM
4:00 PM
TMM Int'l
Royal Caribbean
22-Apr
Carnival Ecstasy
1:30 PM
10:00 PM
Puerta Maya
Carnival
23-Apr
Carnival Triumph
8:00 AM
4:00 PM
Puerta Maya
Carnival
23-Apr
Brilliance of the Seas
10:00 AM
7:00 PM
TMM Int'l
Royal Caribbean
23-Apr
Carnival Breeze
10:00 AM
6:00 PM
Puerta Maya
Carnival
24-Apr
Navigator of the Seas
7:00 AM
5:00 PM
TMM Int'l
Royal Caribbean
24-Apr
Carnival Magic
8:00 AM
4:00 PM
Puerta Maya
Carnival
24-Apr
Carnival Dream
10:00 AM
6:00 PM
Puerta Maya
Carnival
25-Apr
Carnival Elation
9:00 AM
4:00 PM
Punta Langosta
Carnival
25-Apr
Carnival Paradise
9:00 AM
5:00 PM
Puerta Maya
Carnival
25-Apr
Carnival Victory
1:00 PM
10:00 PM
Puerta Maya
Carnival
27-Apr
Carnival Glory
8:00 AM
5:00 PM
Puerta Maya
Carnival
27-Apr
Carnival Triumph
8:00 AM
4:00 PM
Punta Langosta
Carnival
27-Apr
Carnival Sunshine
10:00 AM
6:00 PM
Puerta Maya
Carnival
28-Apr
Disney Wonder
7:30 AM
5:45 PM
Punta Langosta
Disney
28-Apr
Brilliance of the Seas
8:00 AM
6:00 PM
TMM Int'l
Royal Caribbean
28-Apr
Carnival Dream
8:00 AM
6:00 PM
Puerta Maya
Carnival
28-Apr
Liberty of the Seas
8:00 AM
6:30 PM
TMM Int'l
Royal Caribbean
29-Apr
Carnival Conquest
8:00 AM
4:00 PM
Puerta Maya
Carnival
29-Apr
Carnival Elation
9:00 AM
4:00 PM
Punta Langosta
Carnival
29-Apr
Carnival Ecstasy
1:30 PM
10:00 PM
Puerta Maya
Carnival
30-Apr
Oasis of the Seas
8:00 AM
7:00 PM
TMM Int'l
Royal Caribbean
30-Apr
Carnival Freedom
10:00 AM
6:00 PM
Puerta Maya
Carnival
30-Apr
Carnival Splendor
10:00 AM
6:00 PM
Puerta Maya
Carnival
30-Apr
Carnival Paradise
11:00 AM
8:00 PM
Punta Langosta
Carnival